Ancient Mysteries

Why Did God Permit Sin?

Does it matter if Creation was Literal or Figurative?

Why do we have a Seven Day Week?

Pre Flood Civilization

Was Behemoth an Elephant, Hippo or Dinosaur?

Is the T-rex Dinosaur mentioned in the Bible?

Did Humans and Dinosaurs Live Together?

Were our Ancestors Giants?

Was there an Ice Age in Job's Day?

Does God have a 7000 Year Plan?

Jesus' Real Birthday

The Two Adams

Parallels between the 2 Adams and Passover

Supernatural Events recorded in 30 AD

The 2nd Coming Predicted

Will Jesus Rule over the Earth for 1000 Years?
Hebrews 2
King James Version
Warning to Pay Attention
1 Therefore we ought to give the more earnest heed to the things which we have heard, lest at any time we should let them slip.
2 For if the word spoken by angels was stedfast, and every transgression and disobedience received a just recompence of reward;
3 How shall we escape, if we neglect so great salvation; which at the first began to be spoken by the Lord, and was confirmed unto us by them that heard him;
4 God also bearing them witness, both with signs and wonders, and with divers miracles, and gifts of the Holy Ghost, according to his own will?

Jesus Made Like His Brothers
5 For unto the angels hath he not put in subjection the world to come, whereof we speak.
6 But one in a certain place testified, saying, What is man, that thou art mindful of him? or the son of man, that thou visitest him?
7 Thou madest him a little lower than the angels; thou crownedst him with glory and honour, and didst set him over the works of thy hands:
8 Thou hast put all things in subjection under his feet. For in that he put all in subjection under him, he left nothing that is not put under him. But now we see not yet all things put under him.
9 But we see Jesus, who was made a little lower than the angels for the suffering of death, crowned with glory and honour; that he by the grace of God should taste death for every man.
10 For it became him, for whom are all things, and by whom are all things, in bringing many sons unto glory, to make the captain of their salvation perfect through sufferings.
11 For both he that sanctifieth and they who are sanctified are all of one: for which cause he is not ashamed to call them brethren,
12 Saying, I will declare thy name unto my brethren, in the midst of the church will I sing praise unto thee.
13 And again, I will put my trust in him. And again, Behold I and the children which God hath given me.
14 Forasmuch then as the children are partakers of flesh and blood, he also himself likewise took part of the same; that through death he might destroy him that had the power of death, that is, the devil;
15 And deliver them who through fear of death were all their lifetime subject to bondage.
16 For verily he took not on him the nature of angels; but he took on him the seed of Abraham.
17 Wherefore in all things it behoved him to be made like unto his brethren, that he might be a merciful and faithful high priest in things pertaining to God, to make reconciliation for the sins of the people.
18 For in that he himself hath suffered being tempted, he is able to succour them that are tempted.
Book of Hebrews

Faith Explained

Examples of Ancient Faith

Music for Hebrews 11
Like it - Download it!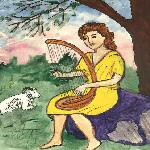 Bible in Song music can be downloaded on iTunes to your computer or portable player. Music is also available in CD, DVD and MP3 format at Store page.
Handel Messiah Tribute

One of the earliest musical influences on Bible in Song composer was Handel's Messiah, particularly the fact that it is possible to write melodic tunes to actual Scripture.
Wedding Song Guide

Guide to wedding music includes classical and popular music, hymns, religious readings, and 1 Corinthians 13 song kits.
Daniel and Revelation

A unique Bible Commentary on the Books of Daniel and Revelation from the author of our Sermons and Bible Commentary pages.