Ancient Mysteries

Why Did God Permit Sin?

Does it matter if Creation was Literal or Figurative?

Why do we have a Seven Day Week?

Pre Flood Civilization

Was Behemoth an Elephant, Hippo or Dinosaur?

Is the T-rex Dinosaur mentioned in the Bible?

Did Humans and Dinosaurs Live Together?

Were our Ancestors Giants?

Was there an Ice Age in Job's Day?

Does God have a 7000 Year Plan?

Jesus' Real Birthday

The Two Adams

Parallels between the 2 Adams and Passover

Supernatural Events recorded in 30 AD

The 2nd Coming Predicted

Will Jesus Rule over the Earth for 1000 Years?
King James Version
Worshiping Other Gods (continued)
17:1 Thou shalt not sacrifice unto the LORD thy God any bullock, or sheep, wherein is blemish, or any evilfavouredness: for that is an abomination unto the LORD thy God.
17:2 If there be found among you, within any of thy gates which the LORD thy God giveth thee, man or woman, that hath wrought wickedness in the sight of the LORD thy God, in transgressing his covenant,
17:3 And hath gone and served other gods, and worshipped them, either the sun, or moon, or any of the host of heaven, which I have not commanded;
17:4 And it be told thee, and thou hast heard of it, and inquired diligently, and, behold, it be true, and the thing certain, that such abomination is wrought in Israel:
17:5 Then shalt thou bring forth that man or that woman, which have committed that wicked thing, unto thy gates, even that man or that woman, and shalt stone them with stones, till they die.
17:6 At the mouth of two witnesses, or three witnesses, shall he that is worthy of death be put to death; but at the mouth of one witness he shall not be put to death.
17:7 The hands of the witnesses shall be first upon him to put him to death, and afterward the hands of all the people. So thou shalt put the evil away from among you.

Law Courts
17:8 If there arise a matter too hard for thee in judgment, between blood and blood, between plea and plea, and between stroke and stroke, being matters of controversy within thy gates: then shalt thou arise, and get thee up into the place which the LORD thy God shall choose;
17:9 And thou shalt come unto the priests the Levites, and unto the judge that shall be in those days, and inquire; and they shall show thee the sentence of judgment:
17:10 And thou shalt do according to the sentence, which they of that place which the LORD shall choose shall show thee; and thou shalt observe to do according to all that they inform thee:
17:11 According to the sentence of the law which they shall teach thee, and according to the judgment which they shall tell thee, thou shalt do: thou shalt not decline from the sentence which they shall show thee, to the right hand, nor to the left.
17:12 And the man that will do presumptuously, and will not hearken unto the priest that standeth to minister there before the LORD thy God, or unto the judge, even that man shall die: and thou shalt put away the evil from Israel.
17:13 And all the people shall hear, and fear, and do no more presumptuously.

The King
17:14 When thou art come unto the land which the LORD thy God giveth thee, and shalt possess it, and shalt dwell therein, and shalt say, I will set a king over me, like as all the nations that are about me;
17:15 Thou shalt in any wise set him king over thee, whom the LORD thy God shall choose: one from among thy brethren shalt thou set king over thee: thou mayest not set a stranger over thee, which is not thy brother.
17:16 But he shall not multiply horses to himself, nor cause the people to return to Egypt, to the end that he should multiply horses: forasmuch as the LORD hath said unto you, Ye shall henceforth return no more that way.
17:17 Neither shall he multiply wives to himself, that his heart turn not away: neither shall he greatly multiply to himself silver and gold.
17:18 And it shall be, when he sitteth upon the throne of his kingdom, that he shall write him a copy of this law in a book out of that which is before the priests the Levites:
17:19 And it shall be with him, and he shall read therein all the days of his life: that he may learn to fear the LORD his God, to keep all the words of this law and these statutes, to do them:
17:20 That his heart be not lifted up above his brethren, and that he turn not aside from the commandment, to the right hand, or to the left: to the end that he may prolong his days in his kingdom, he, and his children, in the midst of Israel.
Book of Deuteronomy

Author of Deuteronomy

Decalogue

Ritual Decalogue

Ethical Decalogue

Ten Terms
Like it - Download it!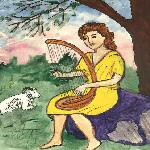 Bible in Song music can be downloaded on iTunes to your computer or portable player. Music is also available in CD, DVD and MP3 format at Store page.
Handel Messiah Tribute

One of the earliest musical influences on Bible in Song composer was Handel's Messiah, particularly the fact that it is possible to write melodic tunes to actual Scripture.
Wedding Song Guide

Guide to wedding music includes classical and popular music, hymns, religious readings, and 1 Corinthians 13 song kits.
Daniel and Revelation

A unique Bible Commentary on the Books of Daniel and Revelation from the author of our Sermons and Bible Commentary pages.