Ancient Mysteries

Why Did God Permit Sin?

Does it matter if Creation was Literal or Figurative?

Why do we have a Seven Day Week?

Pre Flood Civilization

Was Behemoth an Elephant, Hippo or Dinosaur?

Is the T-rex Dinosaur mentioned in the Bible?

Did Humans and Dinosaurs Live Together?

Were our Ancestors Giants?

Was there an Ice Age in Job's Day?

Does God have a 7000 Year Plan?

Jesus' Real Birthday

The Two Adams

Parallels between the 2 Adams and Passover

Supernatural Events recorded in 30 AD

The 2nd Coming Predicted

Will Jesus Rule over the Earth for 1000 Years?
King James Version
Cities of Refuge
19:1 When the LORD thy God hath cut off the nations, whose land the LORD thy God giveth thee, and thou succeedest them, and dwellest in their cities, and in their houses;
19:2 Thou shalt separate three cities for thee in the midst of thy land, which the LORD thy God giveth thee to possess it.
19:3 Thou shalt prepare thee a way, and divide the coasts of thy land, which the LORD thy God giveth thee to inherit, into three parts, that every slayer may flee thither.
19:4 And this is the case of the slayer, which shall flee thither, that he may live: Whoso killeth his neighbor ignorantly, whom he hated not in time past;
19:5 As when a man goeth into the wood with his neighbor to hew wood, and his hand fetcheth a stroke with the axe to cut down the tree, and the head slippeth from the helve, and lighteth upon his neighbor, that he die; he shall flee unto one of those cities, and live:
19:6 Lest the avenger of the blood pursue the slayer, while his heart is hot, and overtake him, because the way is long, and slay him; whereas he was not worthy of death, inasmuch as he hated him not in time past.
19:7 Wherefore I command thee, saying, Thou shalt separate three cities for thee.
19:8 And if the LORD thy God enlarge thy coast, as he hath sworn unto thy fathers, and give thee all the land which he promised to give unto thy fathers;
19:9 If thou shalt keep all these commandments to do them, which I command thee this day, to love the LORD thy God, and to walk ever in his ways; then shalt thou add three cities more for thee, beside these three:
19:10 That innocent blood be not shed in thy land, which the LORD thy God giveth thee for an inheritance, and so blood be upon thee.
19:11 But if any man hate his neighbor, and lie in wait for him, and rise up against him, and smite him mortally that he die, and fleeth into one of these cities:
19:12 Then the elders of his city shall send and fetch him thence, and deliver him into the hand of the avenger of blood, that he may die.
19:13 Thine eye shall not pity him, but thou shalt put away the guilt of innocent blood from Israel, that it may go well with thee.
19:14 Thou shalt not remove thy neighbor's landmark, which they of old time have set in thine inheritance, which thou shalt inherit in the land that the LORD thy God giveth thee to possess it.

Witnesses
19:15 One witness shall not rise up against a man for any iniquity, or for any sin, in any sin that he sinneth: at the mouth of two witnesses, or at the mouth of three witnesses, shall the matter be established.
19:16 If a false witness rise up against any man to testify against him that which is wrong;
19:17 Then both the men, between whom the controversy is, shall stand before the LORD, before the priests and the judges, which shall be in those days;
19:18 And the judges shall make diligent inquisition: and, behold, if the witness be a false witness, and hath testified falsely against his brother;
19:19 Then shall ye do unto him, as he had thought to have done unto his brother: so shalt thou put the evil away from among you.
19:20 And those which remain shall hear, and fear, and shall henceforth commit no more any such evil among you.
19:21 And thine eye shall not pity; but life shall go for life, eye for eye, tooth for tooth, hand for hand, foot for foot.
Book of Deuteronomy

Author of Deuteronomy

Decalogue

Ritual Decalogue

Ethical Decalogue

Ten Terms
Like it - Download it!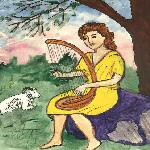 Bible in Song music can be downloaded on iTunes to your computer or portable player. Music is also available in CD, DVD and MP3 format at Store page.
Handel Messiah Tribute

One of the earliest musical influences on Bible in Song composer was Handel's Messiah, particularly the fact that it is possible to write melodic tunes to actual Scripture.
Wedding Song Guide

Guide to wedding music includes classical and popular music, hymns, religious readings, and 1 Corinthians 13 song kits.
Daniel and Revelation

A unique Bible Commentary on the Books of Daniel and Revelation from the author of our Sermons and Bible Commentary pages.