Ancient Mysteries

Why Did God Permit Sin?

Does it matter if Creation was Literal or Figurative?

Why do we have a Seven Day Week?

Pre Flood Civilization

Was Behemoth an Elephant, Hippo or Dinosaur?

Is the T-rex Dinosaur mentioned in the Bible?

Did Humans and Dinosaurs Live Together?

Were our Ancestors Giants?

Was there an Ice Age in Job's Day?

Does God have a 7000 Year Plan?

Jesus' Real Birthday

The Two Adams

Parallels between the 2 Adams and Passover

Supernatural Events recorded in 30 AD

The 2nd Coming Predicted

Will Jesus Rule over the Earth for 1000 Years?
Book of Colossians


1
|
2
|
3
|
4
Colossians 2
King James Version
Paulís Labor for the Church (continued)
2:1 For I would that ye knew what great conflict I have for you, and for them at Laodicea, and for as many as have not seen my face in the flesh;
2:2 That their hearts might be comforted, being knit together in love, and unto all riches of the full assurance of understanding, to the acknowledgement of the mystery of God, and of the Father, and of Christ;
2:3 In whom are hid all the treasures of wisdom and knowledge.
2:4 And this I say, lest any man should beguile you with enticing words.
2:5 For though I be absent in the flesh, yet am I with you in the spirit, joying and beholding your order, and the stedfastness of your faith in Christ.

Spiritual Fullness in Christ
2:6 As ye have therefore received Christ Jesus the Lord, so walk ye in him:
2:7 Rooted and built up in him, and stablished in the faith, as ye have been taught, abounding therein with thanksgiving.
2:8 Beware lest any man spoil you through philosophy and vain deceit, after the tradition of men, after the rudiments of the world, and not after Christ.
2:9 For in him dwelleth all the fulness of the Godhead bodily.
2:10 And ye are complete in him, which is the head of all principality and power:
2:11 In whom also ye are circumcised with the circumcision made without hands, in putting off the body of the sins of the flesh by the circumcision of Christ:
2:12 Buried with him in baptism, wherein also ye are risen with him through the faith of the operation of God, who hath raised him from the dead.
2:13 And you, being dead in your sins and the uncircumcision of your flesh, hath he quickened together with him, having forgiven you all trespasses;
2:14 Blotting out the handwriting of ordinances that was against us, which was contrary to us, and took it out of the way, nailing it to his cross;
2:15 And having spoiled principalities and powers, he made a shew of them openly, triumphing over them in it.

Freedom From Human Rules
2:16 Let no man therefore judge you in meat, or in drink, or in respect of an holyday, or of the new moon, or of the sabbath days:
2:17 Which are a shadow of things to come; but the body is of Christ.
2:18 Let no man beguile you of your reward in a voluntary humility and worshipping of angels, intruding into those things which he hath not seen, vainly puffed up by his fleshly mind,
2:19 And not holding the Head, from which all the body by joints and bands having nourishment ministered, and knit together, increaseth with the increase of God.
2:20 Wherefore if ye be dead with Christ from the rudiments of the world, why, as though living in the world, are ye subject to ordinances,
2:21 (Touch not; taste not; handle not;
2:22 Which all are to perish with the using;) after the commandments and doctrines of men?
2:23 Which things have indeed a shew of wisdom in will worship, and humility, and neglecting of the body: not in any honour to the satisfying of the flesh.
Like it - Download it!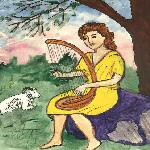 Bible in Song music can be downloaded on iTunes to your computer or portable player. Music is also available in CD, DVD and MP3 format at Store page.
Handel Messiah Tribute

One of the earliest musical influences on Bible in Song composer was Handel's Messiah, particularly the fact that it is possible to write melodic tunes to actual Scripture.
Wedding Song Guide

Guide to wedding music includes classical and popular music, hymns, religious readings, and 1 Corinthians 13 song kits.
Daniel and Revelation

A unique Bible Commentary on the Books of Daniel and Revelation from the author of our Sermons and Bible Commentary pages.