Ancient Mysteries

Why Did God Permit Sin?

Does it matter if Creation was Literal or Figurative?

Why do we have a Seven Day Week?

Pre Flood Civilization

Was Behemoth an Elephant, Hippo or Dinosaur?

Is the T-rex Dinosaur mentioned in the Bible?

Did Humans and Dinosaurs Live Together?

Were our Ancestors Giants?

Was there an Ice Age in Job's Day?

Does God have a 7000 Year Plan?

Jesus' Real Birthday

The Two Adams

Parallels between the 2 Adams and Passover

Supernatural Events recorded in 30 AD

The 2nd Coming Predicted

Will Jesus Rule over the Earth for 1000 Years?
Book of Colossians


1
|
2
|
3
|
4
Colossians 3
King James Version
Living as Those Made Alive in Christ
3:1 If ye then be risen with Christ, seek those things which are above, where Christ sitteth on the right hand of God.
3:2 Set your affection on things above, not on things on the earth.
3:3 For ye are dead, and your life is hid with Christ in God.
3:4 When Christ, who is our life, shall appear, then shall ye also appear with him in glory.
3:5 Mortify therefore your members which are upon the earth; fornication, uncleanness, inordinate affection, evil concupiscence, and covetousness, which is idolatry:
3:6 For which things' sake the wrath of God cometh on the children of disobedience:
3:7 In the which ye also walked some time, when ye lived in them.
3:8 But now ye also put off all these; anger, wrath, malice, blasphemy, filthy communication out of your mouth.
3:9 Lie not one to another, seeing that ye have put off the old man with his deeds;
3:10 And have put on the new man, which is renewed in knowledge after the image of him that created him:
3:11 Where there is neither Greek nor Jew, circumcision nor uncircumcision, Barbarian, Scythian, bond nor free: but Christ is all, and in all.
3:12 Put on therefore, as the elect of God, holy and beloved, bowels of mercies, kindness, humbleness of mind, meekness, longsuffering;
3:13 Forbearing one another, and forgiving one another, if any man have a quarrel against any: even as Christ forgave you, so also do ye.
3:14 And above all these things put on charity, which is the bond of perfectness.
3:15 And let the peace of God rule in your hearts, to the which also ye are called in one body; and be ye thankful.
3:16 Let the word of Christ dwell in you richly in all wisdom; teaching and admonishing one another in psalms and hymns and spiritual songs, singing with grace in your hearts to the Lord.
3:17 And whatsoever ye do in word or deed, do all in the name of the Lord Jesus, giving thanks to God and the Father by him.

Instructions for Christian Households
3:18 Wives, submit yourselves unto your own husbands, as it is fit in the Lord.
3:19 Husbands, love your wives, and be not bitter against them.
3:20 Children, obey your parents in all things: for this is well pleasing unto the Lord.
3:21 Fathers, provoke not your children to anger, lest they be discouraged.
3:22 Servants, obey in all things your masters according to the flesh; not with eyeservice, as menpleasers; but in singleness of heart, fearing God;
3:23 And whatsoever ye do, do it heartily, as to the Lord, and not unto men;
3:24 Knowing that of the Lord ye shall receive the reward of the inheritance: for ye serve the Lord Christ.
3:25 But he that doeth wrong shall receive for the wrong which he hath done: and there is no respect of persons.
Like it - Download it!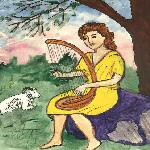 Bible in Song music can be downloaded on iTunes to your computer or portable player. Music is also available in CD, DVD and MP3 format at Store page.
Handel Messiah Tribute

One of the earliest musical influences on Bible in Song composer was Handel's Messiah, particularly the fact that it is possible to write melodic tunes to actual Scripture.
Wedding Song Guide

Guide to wedding music includes classical and popular music, hymns, religious readings, and 1 Corinthians 13 song kits.
Daniel and Revelation

A unique Bible Commentary on the Books of Daniel and Revelation from the author of our Sermons and Bible Commentary pages.