Ancient Mysteries

Why Did God Permit Sin?

Does it matter if Creation was Literal or Figurative?

Why do we have a Seven Day Week?

Pre Flood Civilization

Was Behemoth an Elephant, Hippo or Dinosaur?

Is the T-rex Dinosaur mentioned in the Bible?

Did Humans and Dinosaurs Live Together?

Were our Ancestors Giants?

Was there an Ice Age in Job's Day?

Does God have a 7000 Year Plan?

Jesus' Real Birthday

The Two Adams

Parallels between the 2 Adams and Passover

Supernatural Events recorded in 30 AD

The 2nd Coming Predicted

Will Jesus Rule over the Earth for 1000 Years?
Book of Colossians


1
|
2
|
3
|
4
Colossians 4
King James Version
Instructions for Christian Households (continued)
4:1 Masters, give unto your servants that which is just and equal; knowing that ye also have a Master in heaven.

Further Instructions
4:2 Continue in prayer, and watch in the same with thanksgiving;
4:3 Withal praying also for us, that God would open unto us a door of utterance, to speak the mystery of Christ, for which I am also in bonds:
4:4 That I may make it manifest, as I ought to speak.
4:5 Walk in wisdom toward them that are without, redeeming the time.
4:6 Let your speech be alway with grace, seasoned with salt, that ye may know how ye ought to answer every man.

Final Greetings
4:7 All my state shall Tychicus declare unto you, who is a beloved brother, and a faithful minister and fellowservant in the Lord:
4:8 Whom I have sent unto you for the same purpose, that he might know your estate, and comfort your hearts;
4:9 With Onesimus, a faithful and beloved brother, who is one of you. They shall make known unto you all things which are done here.
4:10 Aristarchus my fellowprisoner saluteth you, and Marcus, sister's son to Barnabas, (touching whom ye received commandments: if he come unto you, receive him;)
4:11 And Jesus, which is called Justus, who are of the circumcision. These only are my fellowworkers unto the kingdom of God, which have been a comfort unto me.
4:12 Epaphras, who is one of you, a servant of Christ, saluteth you, always labouring fervently for you in prayers, that ye may stand perfect and complete in all the will of God.
4:13 For I bear him record, that he hath a great zeal for you, and them that are in Laodicea, and them in Hierapolis.
4:14 Luke, the beloved physician, and Demas, greet you.
4:15 Salute the brethren which are in Laodicea, and Nymphas, and the church which is in his house.
4:16 And when this epistle is read among you, cause that it be read also in the church of the Laodiceans; and that ye likewise read the epistle from Laodicea.
4:17 And say to Archippus, Take heed to the ministry which thou hast received in the Lord, that thou fulfil it.
4:18 The salutation by the hand of me Paul. Remember my bonds. Grace be with you. Amen.
Like it - Download it!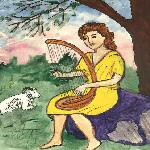 Bible in Song music can be downloaded on iTunes to your computer or portable player. Music is also available in CD, DVD and MP3 format at Store page.
Handel Messiah Tribute

One of the earliest musical influences on Bible in Song composer was Handel's Messiah, particularly the fact that it is possible to write melodic tunes to actual Scripture.
Wedding Song Guide

Guide to wedding music includes classical and popular music, hymns, religious readings, and 1 Corinthians 13 song kits.
Daniel and Revelation

A unique Bible Commentary on the Books of Daniel and Revelation from the author of our Sermons and Bible Commentary pages.